#8: Wild Thought's Will Ryan
Big Ass Hoagies, Vintage Levis, Dansko Clogs, and more
Cool people like cool things, which is why we asked cool person Will Ryan to come on perfectly imperfect & spread the hot rec wealth.
Will is a certified homie & part of the reason perfectly imperfect exists today. He launched wild thoughts last month which inspired us to start our own newsletter and he's given us lots of advice along the way. On wild thoughts you can expect hilarious writing + great drink, food, & clothing recs 2x a week. Subscribe or you'll miss out on hot recs such as this account that posts delightfully weird shirts found around Vietnam (and sells designs inspired by them).
Without further ado—
---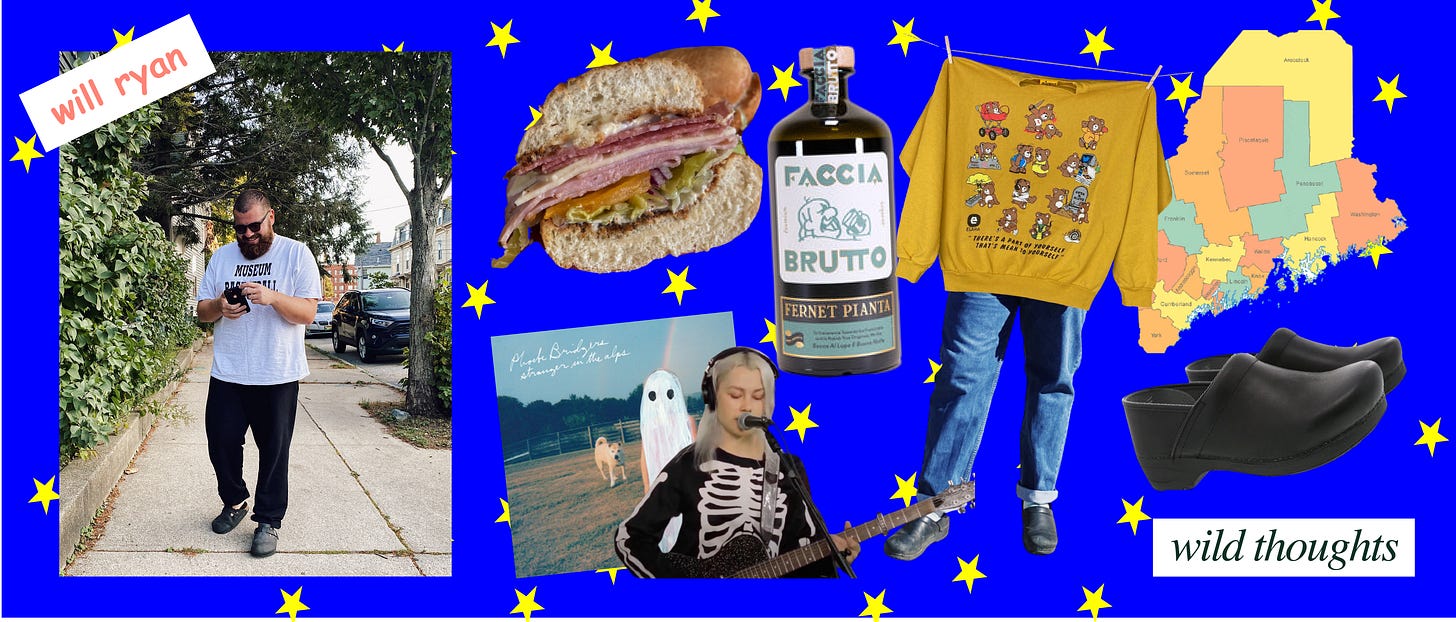 Will Ryan (instagram, substack)
Hello angels! I am Will Ryan the brain behind wild thoughts, a twice weekly newsletter about the things that float around my big stupid head. I am privileged to be here and hope I do not come off like a fool. Lylas.
It is finally #fatboyfall and I am embracing it by eating as many sandwiches as humanly possible. This "recipe" is really just a guide to sandwich perfection. I take my hoagies with lots of mayo, pickled things (peppers preferably) and various Italian meats. I like to pair this with a hefty bag of chips on a Sunday. Some would say eating this sandwich while staring at a TV for 5 hours on a Sunday would be a "hangover cure" but I prefer to just call it part of my "lifestyle"
👖 : Levi 550's (weekend vintage)
I never really understood or believed in the "big pants" movement. That is until recently when I saw I could get a pair of these babies for less than 35 dollars. The second I put them on I was hooked. As someone who has worn the same slim and tight cut off black jeans for around 3 years now these were a nice change of pace. I paired them above with a vintage Carhartt crew neck. This allowed me to serve big "english teacher after school" vibes without having to interact with children in the slightest. A win-win.
🥃: Faccia Brutto Fernet Pianta
My day job is being the sales and brand director for a brewery in the scenic state of Maine. This means I do a fair (read: too much) amount of drinking. Sometimes I need a little jolt (and I don't mean a DIPA), something that kick starts my digestion (beer people don't eat a lot of salads). That is when I reach for Fernet, a kind of Italian amaro defined by its minty taste. On the road I drank a lot of Fernet Branca which always made for an eventful evening. I'm not traveling right now, so I have gone for something a little more civilized. Faccia Brutto is a Brooklyn-based spirits company and the fernet is perfect for sipping with some soda water after a long day. There is less alcoholic heat and more depth of flavor from this Fernet than most others. It is life-affirming after a big meal and while I drink it as a spritz you could have it on the rocks or straight. If you do decide to take it straight please understand how weird it is to do a shot alone in your house!
💔: Mayhem Bears Yellow Online Ceramics
I am an online ceramics head (since 2 years ago!). I know most people think the aesthetic is getting old but I really do not care. They make clothes that fit me and make me feel pretty cool in the menswear desert of Portland, Maine. This was a collaboration with Elara Pictures and I loved the graphics with the quote. As someone who is often very critical of myself it is cool to wear something I feel everyday on my sweatshirt! The fit is great. Super true to size and the material they use always wears well. I will continue to collect their shit and wear it year round. YOLO!
👻 : Phoebe Bridgers - Stranger in the Alps
This album is everything. With the recent success of Punisher, Phoebe Bridgers has gotten a ton of press recently for being cool, sad, and a brilliant musician. Her first album rips and feels so much rougher than Punisher. The addictive riffs paired with the emotional and raw lyrics make for an album I will listen to forever. I'd recommend listening to the entire thing on a fall evening and thinking about the one that got away (or thanking your lucky star you do not have such an intense emotional burden). Emotional Motion Sickness is the run away star of the album but I would suggest Georgia and Scott Street as my two other faves. 
👞: Dansko XP 2.0 Men's Black Burnished Nubuck
The footwear game on this newsletter has been nothing short of stellar. I hope to continue this legacy by providing my insights on the shoe that changed my life. I know what you are thinking, clogs? Aren't I supposed to be unique? What about loafers? What about Blundstones? Here's the thing. Sometimes you just need that shoe to chill in that is not made for summer, something in between a boot and a sandal. The clog is it for me and Dansko makes them affordably and does not skimp on the quality. That way you can dip your toe in without having to post them on Grailed if times get tough. These things can take an absolute beating and wear fantastically over time. I've had mine for a year and a half and they show no signs of quitting. Plus they add a couple inches for our short kings.   
---
Subscribe to wild thoughts
Follow Will on Instagram