#5: JTTB's Bart Hutchins
Chore Coat Season, Turbo Wine Pairings, Wonderwall, and more
Cool people like cool things, which is why we asked cool person Bart Hutchins to come on perfectly imperfect & spread the hot rec wealth.
Bart is an editor at JTTB, a style & culture blog that's absolutely worth checking out. I highly recommend their eBay Grails segment, I mean c'mon just look at this funky sweater.
Without further ado—
---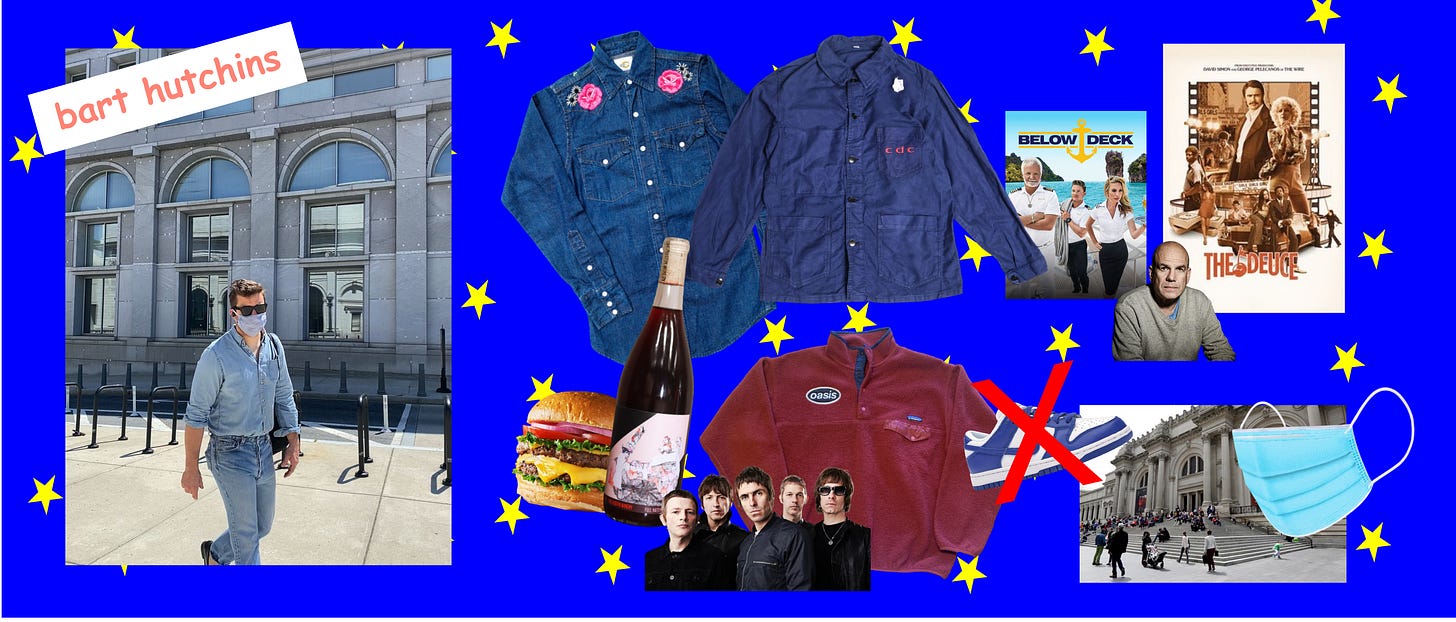 Bart Hutchins (twitter, instagram)
Perfectly Imperfect Readers! It's great to meet you. I'm Bart Hutchins, a chef, an editor at JTTBBLOG.com, and a global one man media brand. I'm coming to you live today from Washington D.C to talk about the food, wine, and garms I'm taking with me into fall. 
At this point I'm sure you're familiar with "shorts and hoodie season" which is all good and well, if you like looking like a well fed 18 year old. I'm here to bring you the gospel of chore coat season. These days everyone from J.Crew to Comme Des Garcon are making one, but this fall you'll find me rocking a vintage french chore coat from Brut Clothing in Paris.
Sure the Pinot Gris with the grilled fish is fine but these days I'm much more interested in a Rose cheeseburger combo. Tonight I'm absolutely geeking over this Grenache blend from The Austin Winery. It's pairing unbelievably well with the BBQ I just picked up from Ivy City Smokehouse here in DC. Must confess, I just opened a can of their Piquette and immediately dialed up caviar to order a chili cheese dog 😊.
🇫🇷: Dressing Like A French Vintage Dealer
Everyday our instagram explore pages get more and more hideous. If I see one more pair of Nike Dunks I might vomit. Have no fear, the french are finally coming to our rescue. Stylist, vintage dealer, and editor in chief of L'ETIQUETTE magazine Gauthier Borsarello has recently started selling some of his more rare garments through instagram and his website. It's quickly becoming a list of every garment I've ever wanted. 
I almost never watch television so when I do I want to make it count. What does that mean? It means the pure bliss of zoning out to Bravo's Below Deck or capital C Cinema. This show by The Wire creator David Simon missed my radar it's first time around but this week I'm taking it down like a glizzy.
🏛️: Socially Distanced Museum Visits
So many cultural events disappeared the minute we hit lock down. Without real culture in our lives we all fill that hole with something, for me it IS conspicuous consumerism. As museums open, please sign up for those time slots, slap on the mask and go do something truly worthy of your time. 
🎸: Listening To Wonderwall Unironically
The Gallagher brothers have lost their god damn mind. Liam has become a twitter legend and Noel has become a super spreader legend. The glory days might be over but something in me can't help but blast that sweet sweet brit pop every morning. I've been listening to them so much I had to cop this fleece from petrified goods.
---