#3: Michael Philbin
Beabadoobee, Absolut Art, Celery Soda, and more
The time has come for our first perfectly imperfect guest.
Michael Philbin is a copywriter at an ad agency & has been buds with the perfectly imperfect boys for a long long time. Not only is he a homie with taste👌, but he's willing to spread the hot rec wealth.
Without further ado—
---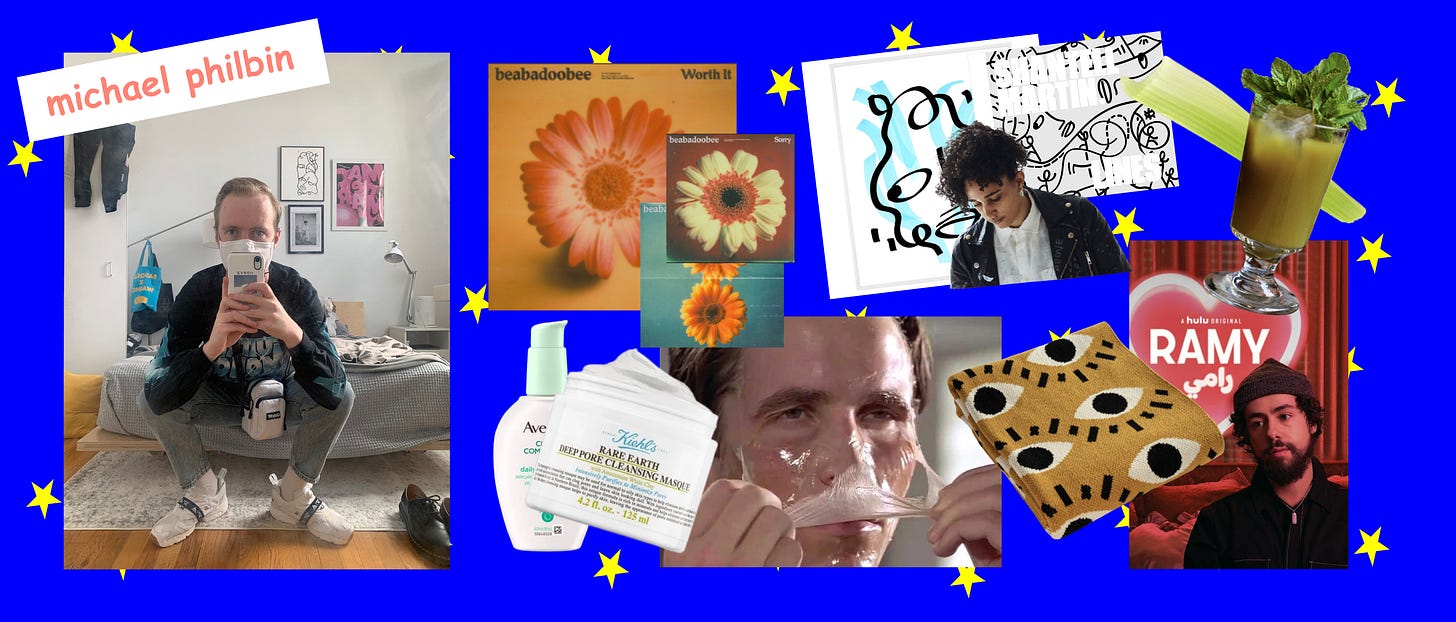 Michael Philbin (Instagram, Twitter)
Hey imperfectonians (or whatever the recipients of this newsletter would like to be called), I'm Michael. I live in Brooklyn and write commercials at an ad agency. I'm vastly unqualified to make any sort of artistic/cultural recommendation. Thankfully, that's never stopped me before.
💆‍♂️: Rare Earth Deep Pore Cleansing Mask (Kiehl's)
This stuff rocks ass. It doesn't give you a weird burning sensation, it smells sort of like your middle school art classroom (in a good way), and one jar seems to last forever. When you're finished, slap on some Aveeno face moisturizer and continue living your best American Psycho life.
🛋️: Nazar Eye Blanket (Superstitchous)
Finding the right throw blanket is a gabillion times harder than you might expect. And if you're like me and have over-indexed on neutral/muted colors while designing your space, they're likely the last chance you're going to get to add a much-needed pop of color before things start to look like a weird, dystopian, minimalist sci-fi movie (that actually sounds kind of sick now that I type it out though). Luckily, I found this bright mustard blanket with a simple but cool design on it to liven up the place. it also comes in terracotta and blue if that's your thing.
Beabadoobee is a Filipino-born British singer/songwriter who evokes big snail-mail-meets-best-coast vibes. Her debut album fake it flowers is set to drop in October, but she's dropped three singles off it in preparation ("worth it" being the most recent). You can hear the other two here and here.
📺: Ramy
Really worthwhile watch. I don't know that I've ever encountered a piece of media that represents Muslim Millenials in such a focused and beautiful way. The writing/dialogue/characters are brilliant, and not to mention the episodes are short. It's similar in a lot of ways to shows like Shrill, Atlanta, and Master of None, but manages to still stand out as its own, unique, fresh thing.
I celebrated a birthday last month and my girlfriend gifted me a subscription to Shaker & Spoon, which is basically like a Birchbox type of deal that sends you a bunch of cocktail ingredients/recipes for the month and all you need to do is pick up the liquor that the drinks are based around. This month was tequila and the first drink I tried was, to put it eloquently, fire flames. Not only did the recipe include some spicy poblano-agave syrup, but it also had celery soda in it??? Long story short, celery soda slaps.
🎨: Absolut Art
Art is cool but art is also expensive. If you're like me and have a growing interest in it, but don't quite have the funds to pursue said interest, check this out. Absolut partners with contemporary artists and photographers to bring more affordable limited-run prints to people who aren't necessarily wealthy collectors. It's still an investment, but much more manageable. I got a Shantell Martin print recently and to thank me, she sent a free, signed art book along with it.
---