#4: Perfectly Imperfect's Tyler, Alex, and Serey
Freaky Folk, Sicilian Pét-Nat, Le Labo scents, and more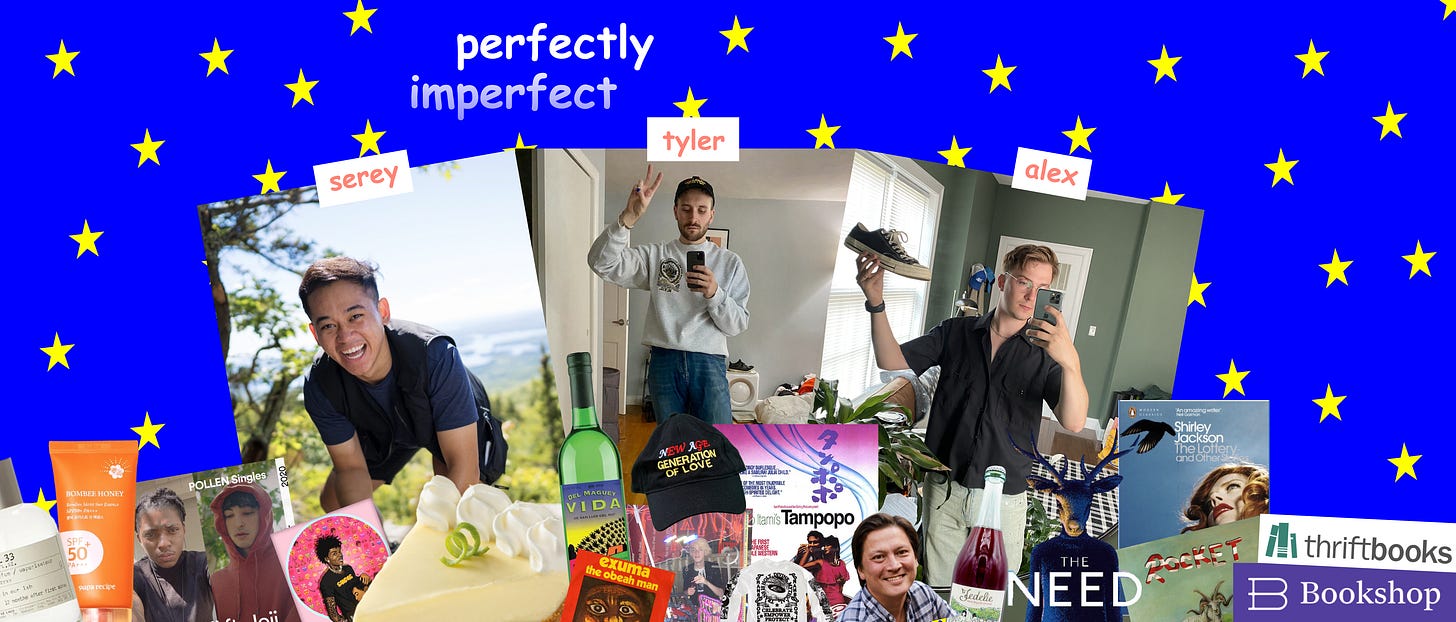 Hey everyone!! Thanks for tuning in last week. We appreciate everyone sticking with us & giving great feedback along the way. Keep an eye out for more guests over the coming weeks!
Without further ado— time for some hot recs from Tyler Bainbridge, Alex Cushing, and Serey Morm.
---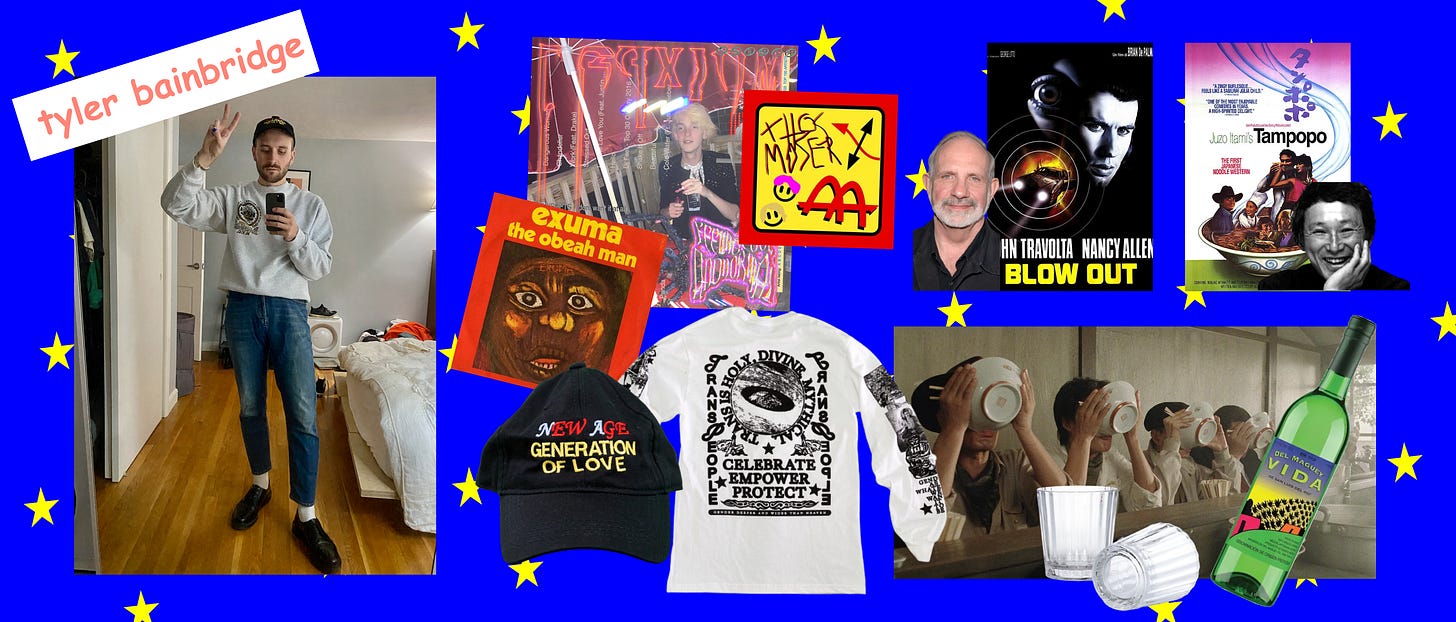 Tyler Bainbridge (instagram, twitter, letterboxd, photography)
Hope y'all had a good week! Here's a peek at what I've been into:
🧢: UDLI Editions - NEW AGE GENERATION OF LOVE HAT
Generation of Love baby! There's just something about the colors, phrase, typefaces, and slanted lettering that make this hat feel wholly unique. UDLI Editions is constantly doing great things— back in July they designed a shirt to raise money for Ice Cream Social, a QTBIPOC-centered mutual aid platform, dance party, and artist collective from Richmond, Virginia.
🎵: Exuma - Exuma, The Obeah Man (1970)
Curious what Caribbean Freak Folk sounds like? Well look no further! Tony McKay (as Exuma) describes his music as "all music that has ever been written and all music not yet written. It's feeling, emotion, the sound of man, the sound of day creatures, night creatures and electrical forces". Not sure if I can describe it any better— it's truly a wild wide.
🎵: Fraxiom - Feeling Cool and Normal (2020)
Thos Moser was my introduction to Fraxiom— it's an absolute banger & SO much fun, definitely one of my favorites of 2020. This new EP featuring production from Umru (& Gupi) captures a lot of that same magic. There's no one out there making music quite like Frax, so give it a shot.
📽️: Brian De Palma - Blow Out (1981)
There comes a point in every film nerd's journey where it's time to dive into De Palma. So far I've seen this one, Carrie, Scarface, and Carlito's Way— any of which could have been today's pick. However, I think Blow Out is the perfect intro to his world. It's a wonderfully campy noir flick (starring John Travolta) that oozes style & has one of my favorite endings of all time, "now that's a scream".
📽️: Juzo Itami - Tampopo (1985)
One of those rare films that I knew I'd love just from the first few minutes. Tampopo is a blast— it's hilarious, bizarre, comforting, and clever. If you love ramen (or food in general) you're going to watch this with a big ol' smile on your face. In the before-times some friends and I started the nood boys, a place where we document our ramen adventures around Boston & NYC. Needless to say, a story about noodles bringing people together is near and dear to us ♥️.
🍸: Mezcal
Disclaimer: I'm pretty new to Mezcal. For those unfamiliar it's pretty similar to Tequila but more complex & smokey. I usually drink it neat out of these lil glasses like some kinda trendy Millennial Mad Man. I've been sippin' this, but please hit me with some hot Mezcal recs.
📑: Good Reads
Emily Ratajkowski - Buying Myself Back (The Cut)

How Michael Imperioli Became Instagram's Favorite Punk Intellectual (Vice)
😮: More
Slowthai (ft James Blake & Mt Kimbie), Birkenstock Oiled Black Bostons, Faye Webster, A.G Cook, Sharp Objects (HBO), Rico Nasty - Own It, and Baby Keem
That's it for me ✌️
Oh, & the playlist is updated!
---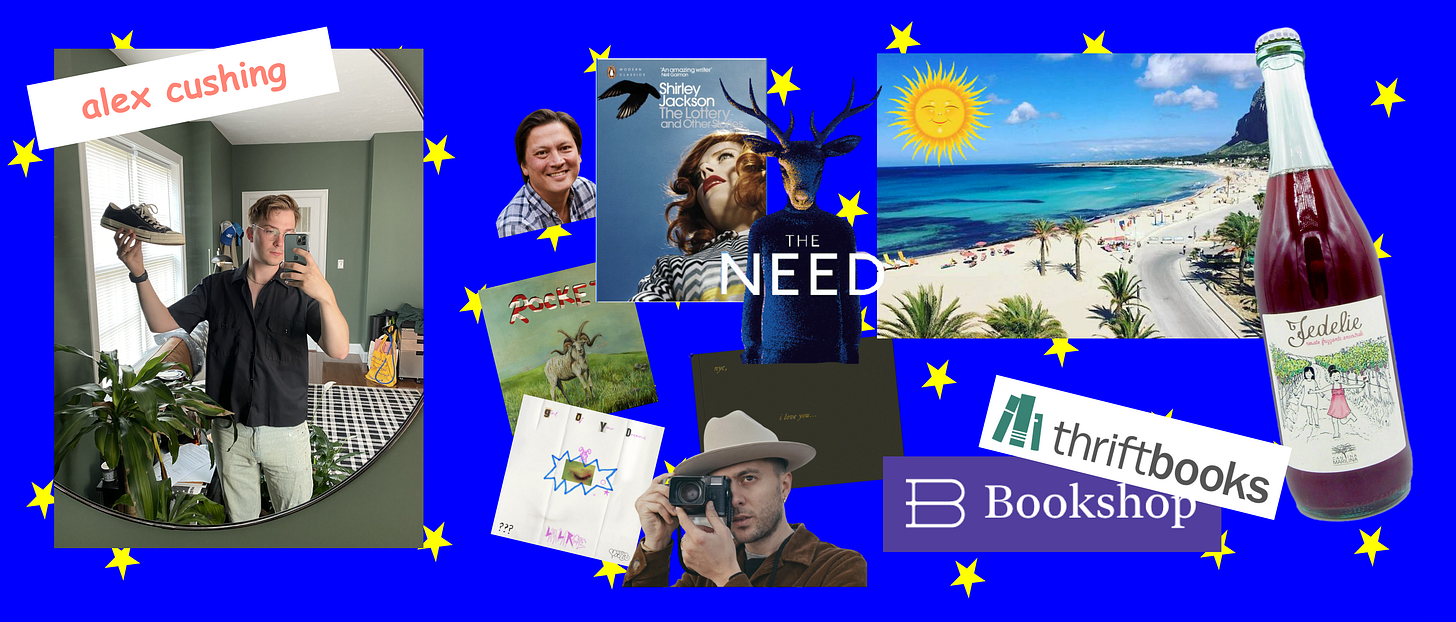 Alex Cushing (instagram, twitter, last.fm, goodreads)
🍷: Petillant Naturel Rosato 'Fedelie'
So Summer's coming to an end — that doesn't mean you have to move on from it just yet. Doesn't a tall glass of "unfiltered bubbling wine straight from the coastal cities of Sicily where your Nonno grew up" sound like just the thing to squeeze the last juices out of summer? Please, do yourself a favor and give it a shot.
📗: The Lottery and Other Stories
Here's a collection of short stories, sharing an eerie lean into plot lines that are just a biiiiit chilling. Prepare yourself to be lost in another world only to have it end abruptly just before you expect a big revelation. This book comes with a certified guarantee that you'll spend way too much time thinking about all these short stories after you finish 'em.

I cant move on without rec-ing a few of these specifically to sort of wet your whistle as they say —

One story follows a young boy who is certain there's a witch on his train, and you know what, there is definitely something off about that one person…

Another one tells the story of a sweet old Irish man selling shoelaces. This one has How Much a Dollar Cost themes, but with a little more food for thought once you turn that last page.

I cant move on without mentioning the namesake — The Lottery. Picture the Hunger Games but way more unsettling and just, y'know, way more wrong.
📕:  The Need
I just want to quickly mention this one, I think it's gonna be a super polarizing read. Even having finished it, I don't know what genre this falls in, sci-fi, fiction, or psychological thriller. One thing I can absolutely say about The Need is that it had the most gripping first chapter I've read in a suuuuper super long time. If you want to explore the mind of a stressed overworked mother, and don't mind stories that don't end fully explained, it's worth checking out.
💻: ThriftBooks, Bookshop
As I've bought more books I've tried to make a conscious effort of buying less of them from amazon. To try to lessen the impact on both my wallet & the environment, I often buy books from Thriftbooks. It's essentially like buying books from a thrift store, but online. You can often find books for like $5-$8 and usually in really good condition.  On the other hand, I don't want to stop my support to the authors & local bookstores, so when I feel like the wallet can take a bit more of a hit I buy from Bookshop. Their whole mission is to give local bookshops all over the world a marketplace to sell online. In supporting local bookstores by buying new - you're also supporting the author — win/win.
🖼️: nyc, i love you…
This is a different kind of book - a photo book 😃. Joe Greer (film photographer extraordinaire) collected his favorite street shots from his time in nyc from 2017-2020 as a bittersweet goodbye, before his move "down south" to Nashville. There are some cool shots in here & it just feels momentous as a way to mark the end of an era.
🔈: Rapid Round Shoutouts
Rocket - Sandy Alex G not new but i just love it, G.O.Y.D. - Lava La Rue, Going outside & being active :), Kenji Lopez-Alt the best youtube cooking channel.

Also you may be thinking "wow Alex thats a sweet shirt in your pic!". Thanks!! Its a dickies work short, with the sleeves & body both cut shorter — raw hemmed. Affordable fashion.
---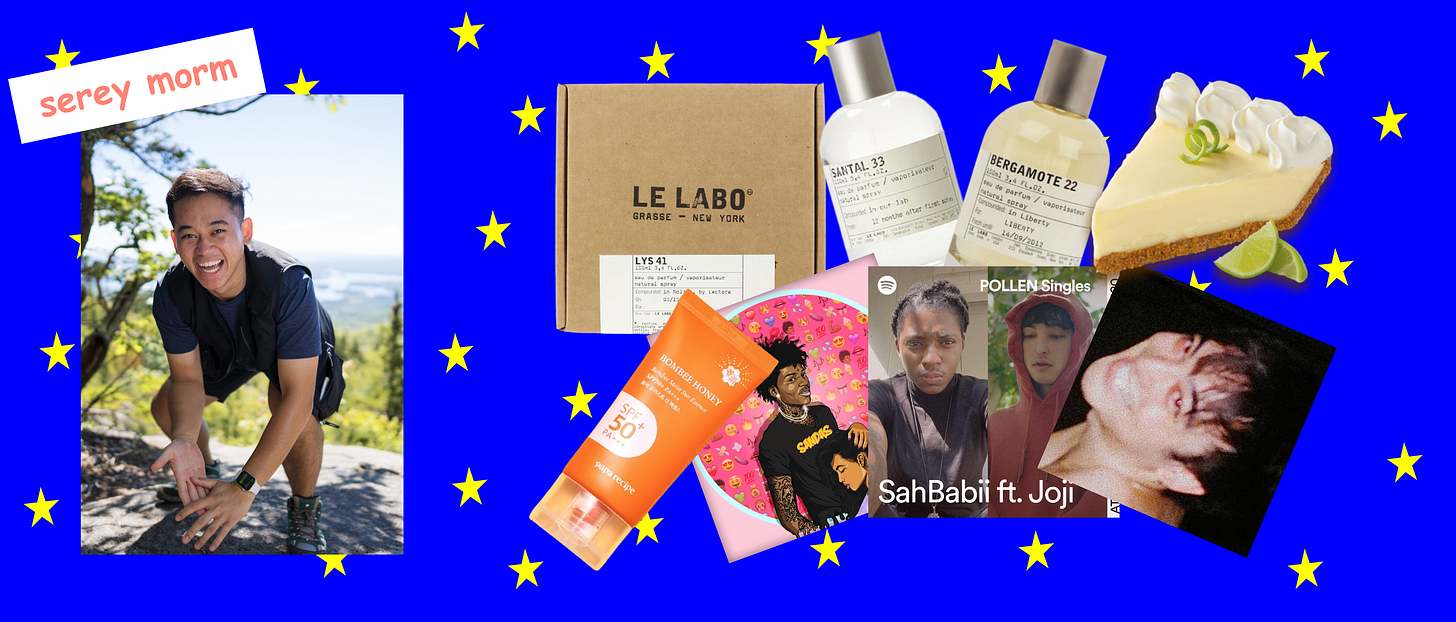 Serey Morm (instagram, twitter, vsco)
🌸: Le Labo
One of my favorite perfume companies that makes very distinct, handmade, and unisex fragrences. My first scent from Le Labo was their addictive, leathery, woody scent: Santal 33. To make their scents even more distinctive, my friend put me on to the idea of layering different scents. As an everyday now, I layer their Santal 33 with the Bergamote 22 which takes the scent to a whole new level. The "lab" experience is also super dope because of the shop's decor, and they make the perfume by hand right when you buy it 👩‍🔬💐
🎵: Gates to the Sun (SahBabii & Joji)
SahBabii makes very unique hip-hop/r&b music. It's hard to describe his music, but his voice is very soothing and his flow is suuper dope. He blew up when he released Pull Up With Ah Stick on S.A.N.D.A.S. (highly recommend btw). On the other hand, Joji, makes sad boi r&b/soul, so I'm a bit mind blown that two of my favorites made a song together.
💆‍♂️: Bombee Honey Sun Essence
This year I've been religiously putting sunscreen on my face every time I step out of the house. I recently learned that if you're out in the sun without sunscreen, UV rays will make your face age faster than a ripe avocado. I use Bombee Honey Sun Essence because it doesn't feel like there's anything on my face and it doesn't use harmful chemicals that kill marine life if you're going into the ocean 🐢🐬.
To make my baking adventures more fun, I've been asking my friends for one thing that I should bake. This week, it's key lime pie 🍋👩‍🍳.

I'm a firm believer in the idea that it takes at least three iterations to perfectly bake/cook something. This is their 7th iteration of the recipe, so it kind of speaks for itself. It's one of the easiest & tastiest things I've ever baked, but I would suggest going light on the condensed milk if you're not too big on super sweet treats 😅.

Oh, and don't worry if you're not an avid baker, this one's really simple.
That's all I have this week, have a great weekend!
---