#2: Perfectly Imperfect's Tyler, Alex, and Serey
Salomon XT-6s, Camp collars, and The Last Airbender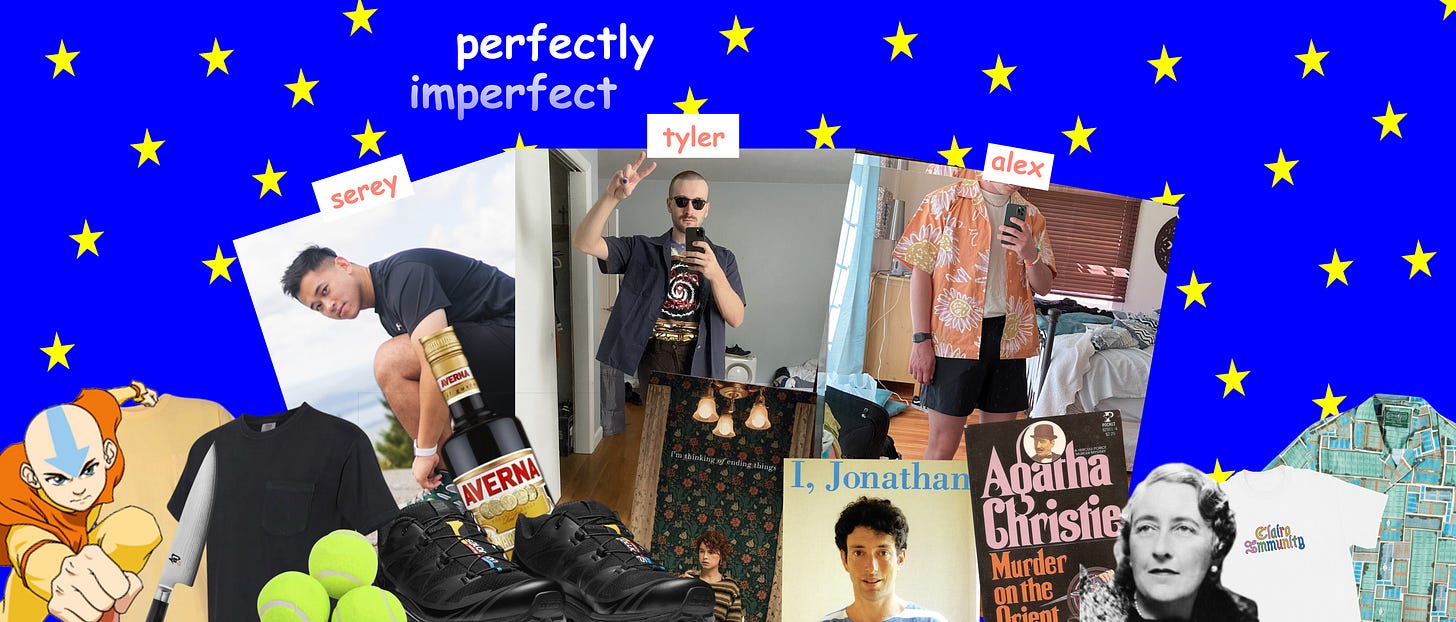 yo!! thanks for tuning in last week.
we got a lot of great feedback & people seem to be into it! we're psyched to be back at it again for week 2 & keep your eyes peeled 👀… we'll be featuring a guest soon.
p.s. if you didn't see last week's email, it's likely under the "promotions" tab in g-mail. drag it over to the main inbox & you should be good to go.
okay— it's time for some hot recs from tyler bainbridge, alex cushing, and serey morm
---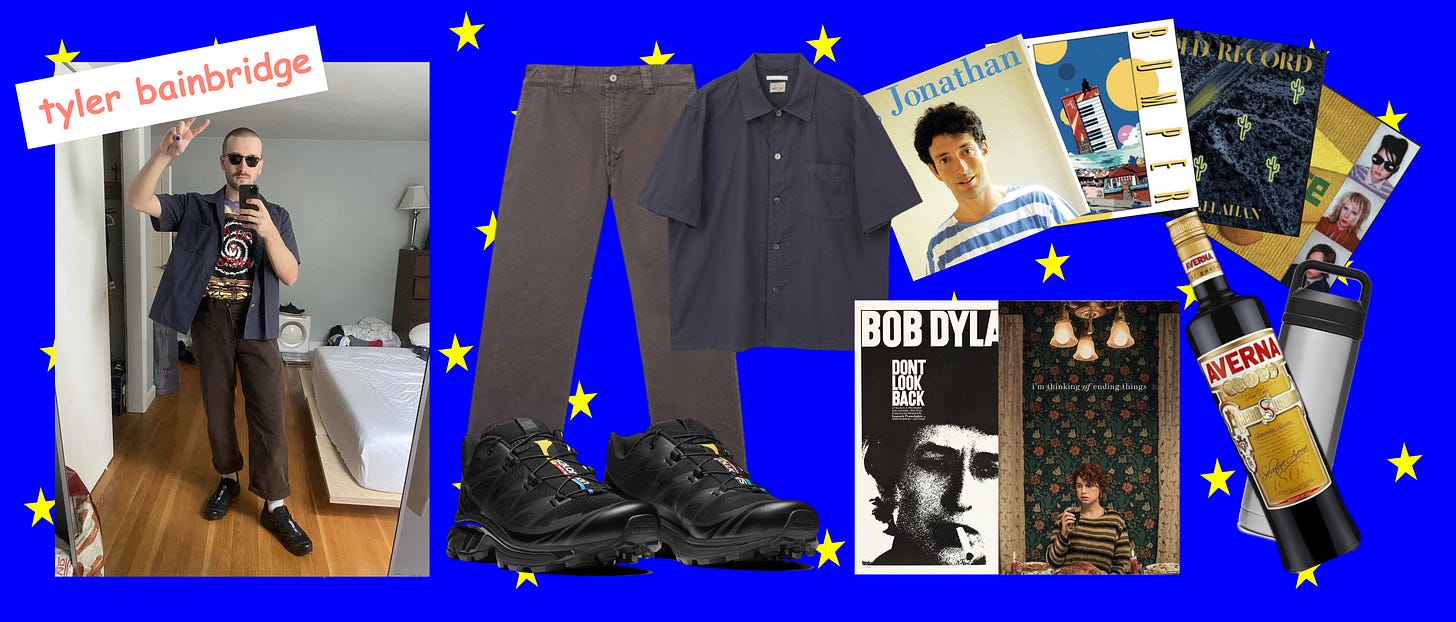 tyler bainbridge (instagram, twitter, letterboxd)
hope y'all had a good week & are ready for a lil peek at what i've been into-
📽️: I'm Thinking of Ending Things (2020)
woah…pretty cool that kaufman wrote an entire scene based on a song by Le Tigre! but fr, this movie is a fuckin' trip— it's dense, it's hypnotic, it's existential, and most of all: it's what you make of it. i just wouldn't go into this movie expecting to fully "get it", just go with the flow & let Mr. Kaufman take u on a wild ride.
📽️: Dont Look Back (1967)
this is a gritty 16mm black n' white doc that captures Bob Dylan at the height of his powers: sparring with journalists, rockin' black sunglasses, performing all time classics, blasting cigs, and yelling at some guy for throwing glass in the street"either be groovy or leave!" honestly? that could be our slogan.
🎵: Bill Callahan - Gold Record (2020)
"hello, i'm johnny cash" is how bill introduces himself on this very quiet record. over minimal arrangements his baritone voice tells rambling stories while finding profound in the mundane & the humor of it all. containing a cover of his own song from over 20 years ago, bill is clearly looking back— yet happily settled into fatherhood & his new suburban life. getting old spooks me, but this record makes it all seem okay.
🎵: Jonathan Richman - I, Jonathan (1992)
I, Jonathan is just a great time w/ a lot of heart— it's basically Jimmy Buffet for ex-punk dads & people who think they're too cool for Margaritaville (disclaimer: i am not). i dare you, just try to listen to I Was Dancing in the Lesbian Bar without dancing n' smiling.

tyler, who is this Jonathan guy and why should i care? well, he happened to start one of the best bands to come out of Boston, The Modern Lovers, and helped spawn the proto-punk genre in the early 70s. but, you may still not care and that's totally fine.
👖: Pico Work Pant Brown (General Admission)
these are nice n' loose which is how im rockin' pants in 2020. yup! tight pants are cancelled—this year is about being comfy & looking great doin' it.
i've had these sitting in my apartment for 3 weeks now & finally strapped em on. trail runners are poppin rn' and i'm into the all black w/ the lil burst of color. they're also super comfortable & supportive for all those long walks n' runs outside + the lil cord thing makes em super easy to slip off when you're done.
when you're done with that walk? pour yourself a Averna Spritz! it tastes like the most refreshing Coke you've ever had & it has a v low ABV, which makes it perfect for sipping in the late afternoon.
cut for time: A.G. Cook in NYT, Conner O'Malley's latest, tie dye forever w/ Mordechai Rubinstein, pop songs 2020 by BUMPER, our legacy x stüssy box shirt, dune trailer, new single from U.K. punk band Shame, photo book from pomegranate press, Bill's tiny desk
p.s. the playlist from last week is updated!
that's it for me! ✌️
---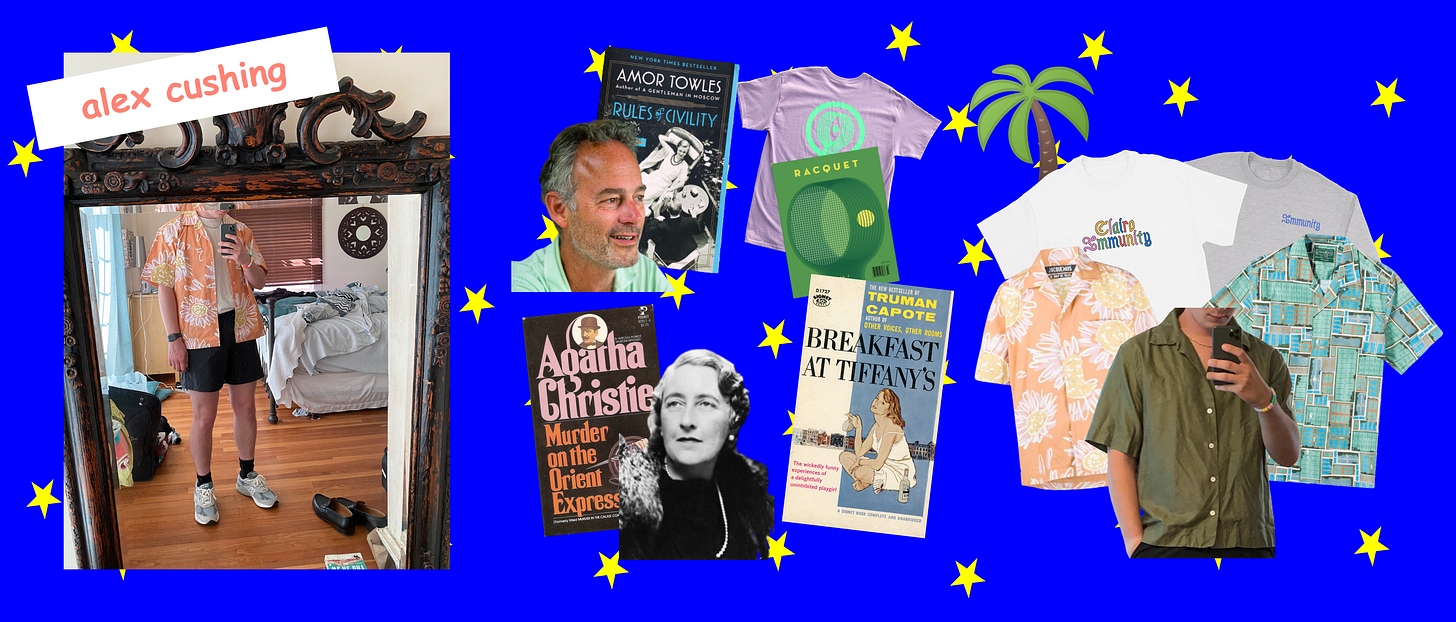 alex cushing (instagram, twitter, last.fm, goodreads)
whats up everyone and welcome to all the newcomers, ill be dropping some recs-lite® this week, coming fresh off vacation mode 🌴
while vacationing ive dialed back most of my music/podcast/movie intake & paused my "to be read" for the best types of reads - random books that catch my eye from the local book stores —

my man Amor Towles's book A Gentleman in Moscow was a perfect vaca-mode book with a legit beautiful story not holding off on the fun-factor, so i insta-copped this book by the same guy. if you like gatsby level extravagance (and the downfalls that go with that) in 1930s NYC & still have room for some thoughtful/heavy themes pick this up — it's great
📚: The Murder on the Orient Express (1934), & others
yep — i picked up yet another Christie cuz I'm a sucker for her mysteries apparently, but im only about half thru it — check back into my goodreads to quantify (the staaarrrsss) just how classic it is

here are some extra shoutouts in the book dept — listened to the audiobook for Breakfast at Tiffany's and that's eclectic and fun, next week ill be continuing my pre vacation reads — The Need & The Lottery (& finish the Christie)
this week i finally broke out my Jacquemus summer shirt (check the banner fittt) & needless to say that was a hit. i found myself throwing on the absolute ultimate vaca fit uniform daily — open camp collar on top (Jacquemus, Ijji, Gitman) & OV shorts on bottom
quick shout out to Clairo, got my immunity anniversary gear shipping confs — catch ya boy rocking out to sofia in matching merch this fall
🔈: Shoutouts
Racquet Mag, The NFL Season 👀, Audiobooks in general 🔥, COD black ops Cold War, godspeed James Blake edition
❌: Wrecks
travis scott & mcdonalds …🤔 … ❓
---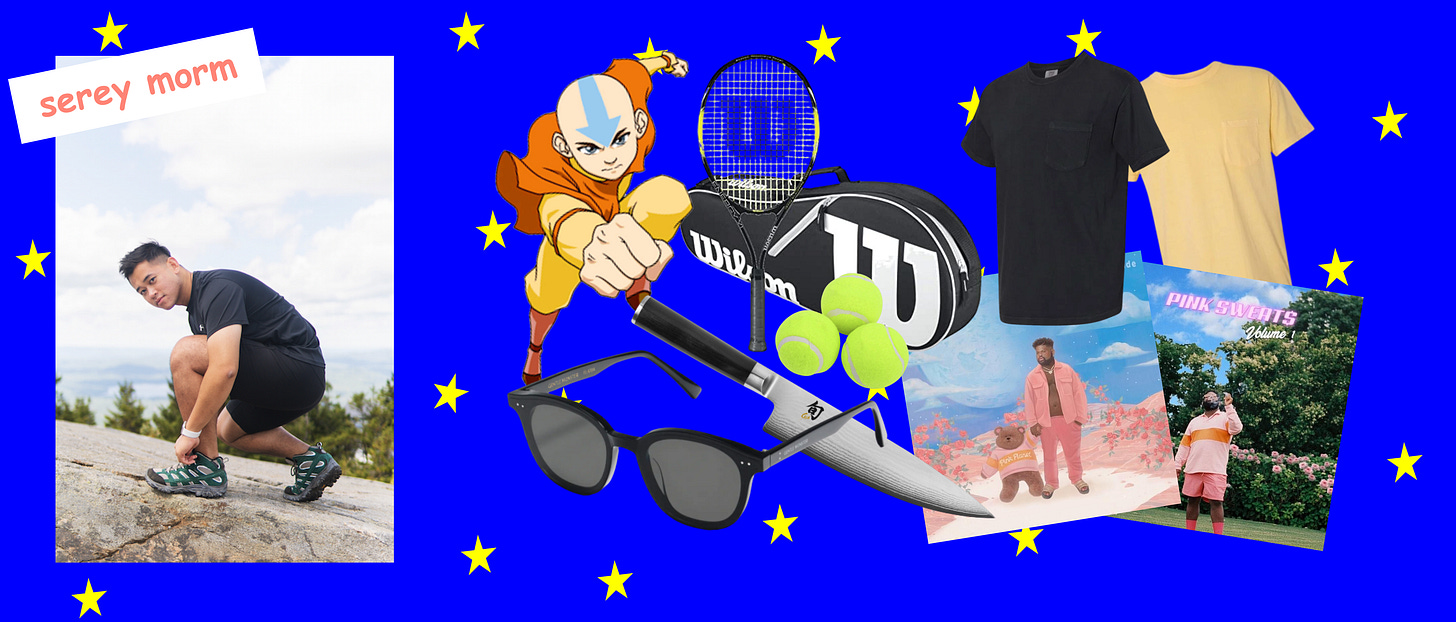 serey morm (instagram, twitter, vsco)
if you're into chill r&b, soothing vocals, and acoustics; this one's for you. i found him through a random youtube recommendation and this boy has not missed ever since. definitely recommend checking out his first ep as well.
🌊: Avatar - The Last Airbender
a lot of us grew up watching this show, but this show hits different as an adult. its gotten a lot of buzz since it made its way to netflix, and for good reason. it's so progressive for its time; so many life lessons and wisdom. highly recommend this show even if you've already seen it.
Gentle Monster's Flatba series caught my eye because of its unique take on how the lens wraps the entire front part of the frame which gives it a seamless flow between the frame and Zeiss lens. it also gives the front frame a super dope reflection. I copped the Lang 01's recently and i gotta say, this is probably my favorite pair of sunglasses of all time. all time.
👕: Comfort Colors - Blank Pocket T's
gone through a lot of basic tees over the past year: Uniqlo, Everlane, Muji, etc. Noah's recycled cotton tees are my all time favorites, but $52 for a t-shirt is a bit steep. these comfort colors heavyweight tees comes really close, and they're $7 😛
🔪: Shun - 8-inch Classic Chef Knife
i can't stress how important it is to invest in a really good knife. we've gone through this classic german knife (Wusthof), japanese super steel (Dalstrong), and finally the Shun 8-inch Classic. don't get me wrong, they're all great knives. the wusthof is great for general purpose use & doesn't need as much sharpening, but c'mon, it just doesn't look as cool as the Japanese knives 🤷‍♀️ the Dalstrong's hammered-finish is a super dope look, but it's a little bit on the heavier side for me. the Shun is my pick out of the three because it has the perfect weight distribution and it slices anything like a hot knife going through a block of butter.
not a tennis expert, but we're trying to stay active here. entry level racquets like this Wilson Energy are only $30-$50. it's a great entryway into a fun sport to keep you in shape. and trust me, you don't have to be good to enjoy tennis (i'm not lol)