#17: Iana Murray
The GQ & i-D Contributor on the Polish Call Me By Your Name, Hexagonal sunglasses, and one of her favorite films of 2020
Cool people like cool things, which is why we asked cool person Iana Murray to come on Perfectly Imperfect & spread the hot rec wealth.
GQ & i-D Contributor Iana Murray has been droppin' hot movie recs & hilarious reviews on her very popular Letterboxd account for years, and after following her on Twitter (a great follow btw) I discovered that she's also a fantastic culture journalist! I highly recommend checking out her recent GQ profile of Jack Dylan Grazer, the breakout star of Luca Guadagnino's new HBO series "We Are Who We Are", or her interview with Robert Eggers and Willem Dafoe earlier this year for The Skinny.
Without further ado
---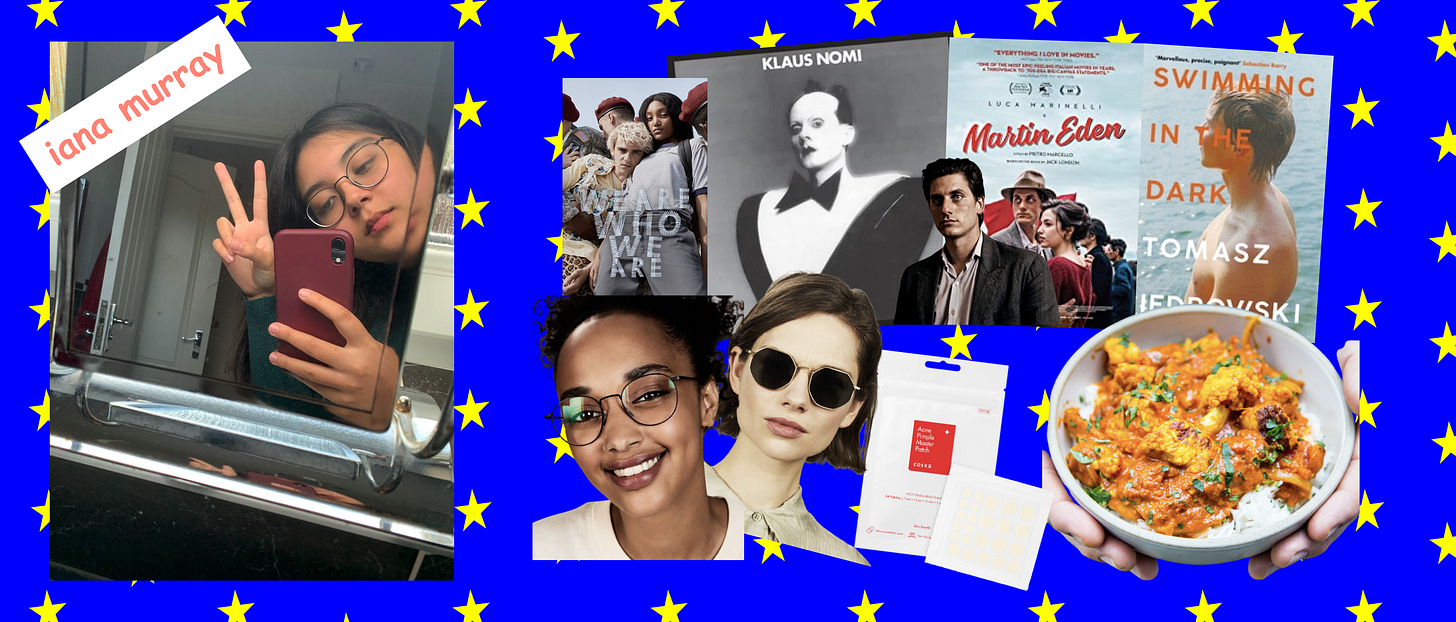 Iana Murray (twitter, instagram)
HELLO! Feeling very honoured and not at all cool enough to be in this newsletter. I'm a London-based writer from a small city in Scotland that Cage the Elephant wrote a song about once. I cover movies and TV and the people who make them for pretty much anyone who will let me. My twitter is just incoherent ramblings of whatever I'm fixated on at that moment, so I believe that's what makes me qualified to be here. Here are some things that I'm really into right now:
📚 : Tomasz Jedrowski – Swimming in the Dark
Gonna be honest, I did buy this book because it was described as Polish Call Me By Your Name. (It's my weakness, I'm sorry!) The story follows two boys who fall for each other during the decline of communism in Poland, and they slowly realise that their relationship is doomed because of their opposing political views. The many, many references to Giovanni's Room cemented this as extremely my thing. 
It's actually painfully embarrassing that it took me so long to discover Klaus Nomi, because I can't listen to anyone else now. I've been watching Luca Guadagnino's HBO series, We Are Who We Are, and there are a lot of Nomi needle drops, plus the main character has the cover of this album up on his bedroom wall. The second episode opens with "Keys of Life", and I was so taken aback by how haunting it sounded that I immediately checked out the rest of his music. My personal favorite is his ingenious cover of Hank Ballard's "The Twist" which reinvents it as this spooky opera with the sliiickest bassline. 
🎥 : Martin Eden
My year has basically been me (figuratively) shaking everyone by the shoulders and yelling, "WATCH THIS FILM!!!" It's based on Jack London's book (which is also great) but it transposes the story from Oakland to Naples, and incorporates basically the entire history of Italy in the 20th century. I could go on and on about its politics and how it's this really smart critique of individualism and yadda yadda, but what's more important is that Martin is ✨ attractive ✨. It's a universally accepted fact that Luca Marinelli has the best face and I think more people should be aware of this fact. 
I SUCK at cooking. Like, I hate how inept at cooking I am, especially because all of my friends are basically professional chefs by comparison. But this is the one thing I can confidently say I can make. Halloumi should not work in a curry yet somehow it does…? And if you're not a cauliflower fan, I'm sure you could substitute it for any other vegetable. When I was still living with my little sister in Scotland, we scheduled a day every week for when we'd make this. That's how much of a staple this curry is in my life. 
💆‍♀️ : COSRX Acne Pimple Master Patch
I was blessed with blemish-free skin for the first 21 years of my life, and then I got a job and the stress gave me the complexion of the moon's surface. I'm pretty new to skincare so I'm still figuring out what works for me (very open to recommendations for treating rosacea!), but these pimple patches have been a lifesaver. If you put these on your spots and leave them on overnight, they'll usually be gone after one or two nights. 
👓 : Ace & Tate
I don't think I've ever owned a good-looking pair of glasses until I found this brand. It's a bit on the pricey side, but I think it's worth the investment if you're looking for an upgrade. No one really needs to own more than one pair but I keep coming back to their website just to scroll through and dream about buying more. I own Neil Large in black and these hexagonal ones as sunglasses, but I've been thinking about buying these ones because I like the idea of looking like a funky grandad. Also, I read that square frames complement round faces, and my face is basically a perfect circle.
---
Follow Iana on Twitter & Instagram
Check out some of her work here