#15: Sommelier Margot Mazur
The Beverage Director & sommelier on West Coast Wines, Online Ceramics, Nail Wraps, Slow Jams, and more
Cool people like cool things, which is why we asked cool person Margot Mazur to come on Perfectly Imperfect & spread the hot rec wealth.
Margot is the Beverage Director at Wild Child & a Sommelier at Rebel Rebel Wine Bar, one of my favorite spots in all of New England. At Wild Child they're not only stocking some lovely natural wines, but also a great selection of books & art by women, people of color, and the LGBTQI+ community— stop by if you find yourself in Somerville, MA (or check out their online store).
Without further ado
---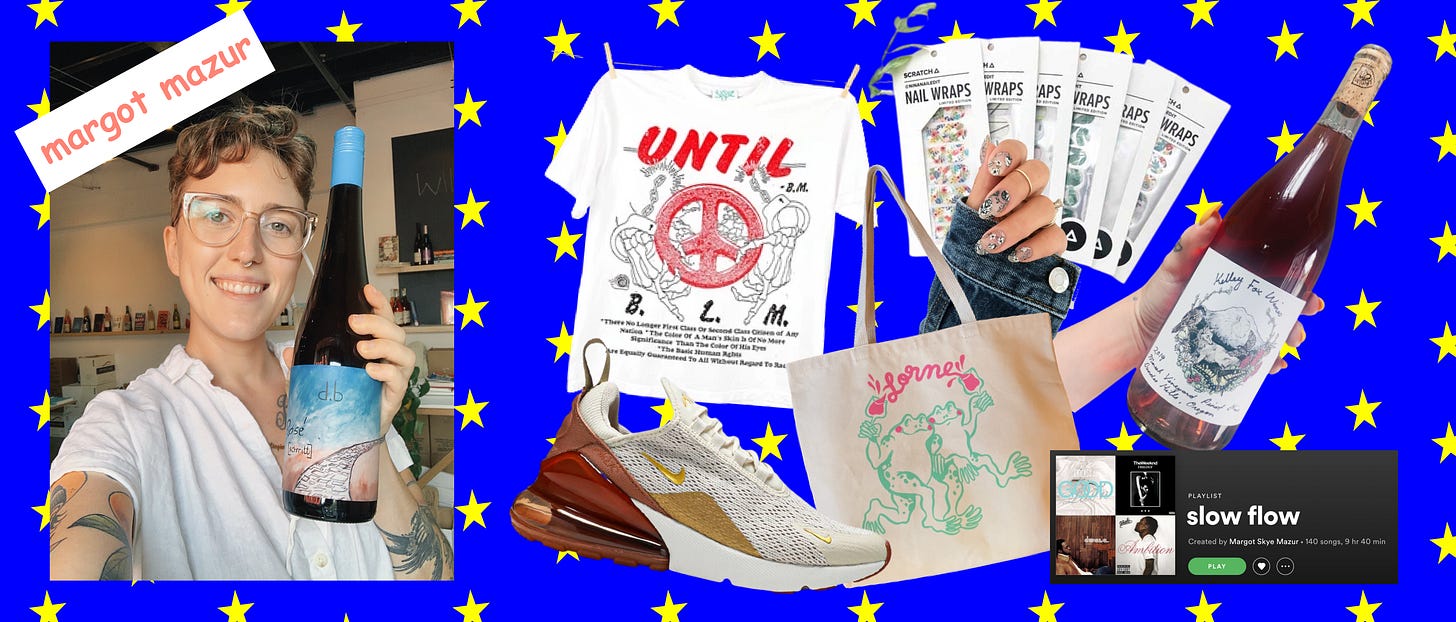 Margot Mazur (instagram, website)
I'm the Beverage Director at Wild Child Somerville. I'm a Brooklyn-bred sneakerhead queer who loves hot chai and a slow vibe playlist. In my free time, I head north. I'm sharing some of the things that make me smile, and hopefully will inspire you:
You know my first rec had to be wine-based. Kelley Fox is an Oregon-based winemaker who makes wines that inspire me. She's connected to the land and her vines, is both incredibly fun to be around and no-bullshit, which I love. This Pinot Gris gives me herbal Spring strawberry vibes, it's delightful. We should all be drinking more West Coast wines anyway.
I have long nails and I love them. They're sharp enough to scare a man. These cute stickers from Nina Nailed It (a Boston local!) are absolutely adorable, easy to apply, and stay on really well. I subscribe to her monthly sticker subscription and it's such a delight.
👟: Wmns Air Max 270 'Light Cream'
I've been collecting sneakers for about five years now, and I stay on GOAT. I'm trying to be more mindful of what I buy, and these Air Max 270s are one of my faves in my collection. They're cute, affordable, low-key, and super comfortable. I find myself reaching for them more often than my other shoes, and that's saying a lot.
Does the site look like it was made in 2000 by a kid practicing HTML? Yes. Is the selection impossible to look through unless you dedicate an hour to endless scrolling? Yes. Are the clothes hot fire, delightful, and remind me of my SUNY New Paltz days? Also yes.
If you find yourself up in Maine, you've got to stop by Lorne Wine Bar and chat with my friends Erin and Carson. They've brought a beautiful space to Biddeford, their outdoor patio is cute, and their wine selection is absolutely incredible. Have a glass and chat Carson up about your favorite punk bands.
My friends know I have bad road rage. I practice harm reduction by only listening to slow r&b vibes while driving. It calms me down on the road and can double as a great vibe when you have a date over.
---
Follow Margot & Wild Child on Instagram
Check out Wild Child's Online Store
Make sure that you're registered to vote.