#13: Ijji's Nick Sugihara
Western Belts, Cabinetmaking, Waxahatchee, and more
Cool people like cool things, which is why we asked cool person Nick Sugihara to come on perfectly imperfect & spread that hot rec wealth.
Nick and Maryam have been making stylish, beautiful, and gender-neutral clothing since they started IJJI back in 2016. We're big fans of their stuff, so far on the newsletter we've rec'd both the Camp Shirt & Pleated Trench Coat (btw, the Canvas Pants are also hot). Super high-quality materials & lots of attention to detail, support a small brand & check em out!
Without further ado
---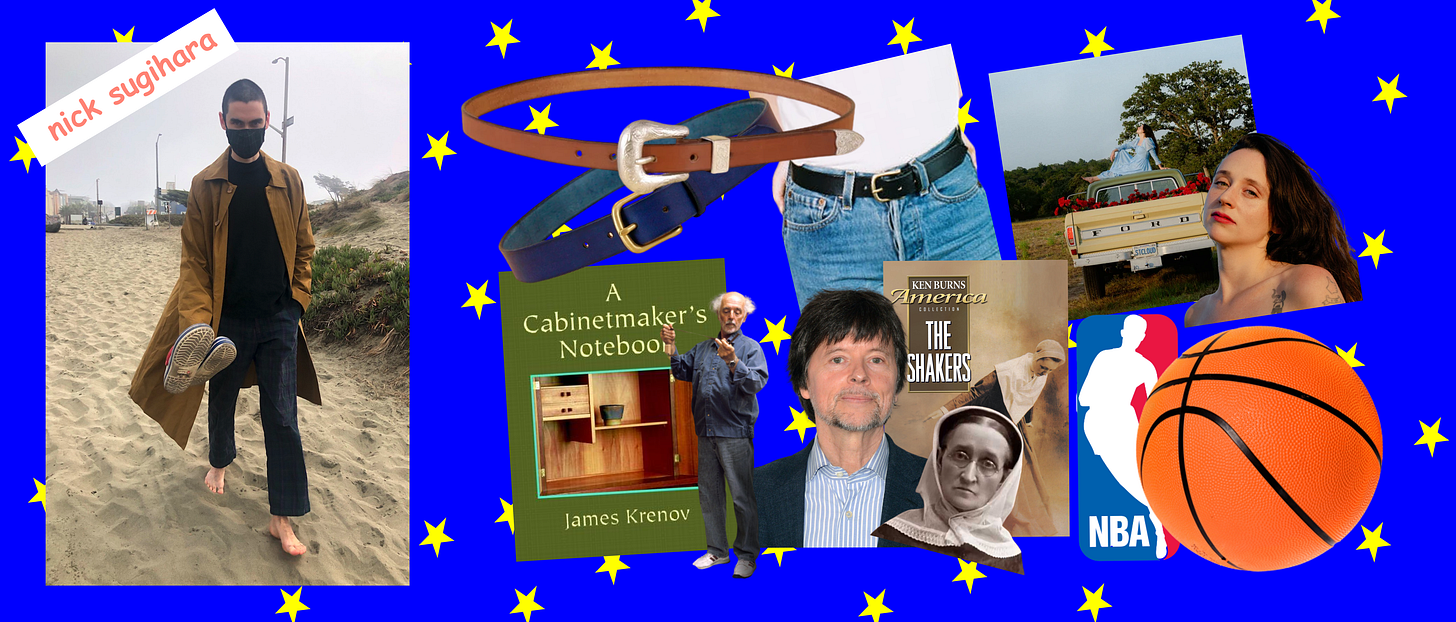 Nick Sugihara (instagram, website)
I have a bit of a soft spot for boring media, and Ken Burns really does it for me in that regard. He made this doc about The Shakers in 1984, and they've been kind of a recent obsession of mine. The Shaker aesthetic is one I connect to in a profound way, despite not really being into the religious stuff. It's all about devotion to everyday craft and that true grace comes more from the act than the idea. For me it has to be as much about sewing a cuff as well as I can, as it is about creating a piece that will resonate with people, in my experience, one thing kind of takes care of the other.
It's hard for me to feel like an outfit is complete without a belt, and Max has been my only source for years. I think between my girlfriend and I we own 5. They're great quality and come in good colors so what more could I want? I bought the Western Belt a couple months ago, and it's the perfect little accent piece.
Not exactly a new album and definitely not a new artist, but I've been listening to it on repeat for months now.
📕: James Krenov - A Cabinetmaker's Notebook
My main interest outside of fashion these days is woodworking, and James Krenov is a legend in that world. Without question he's one of the greatest cabinetmakers of the last century, but what makes him truly special is that he was able to write about it so beautifully. He talks a lot about bringing a sensitivity to what you do instead of always trying to impose your will. In his case that means allowing the wood to tell you how it needs to be handled, but that way of thinking has such broad applications. For me it's both very practical - trying to understand how a certain fabric can best be used - and esoteric - leading IJJI in a direction that makes sense for the business as a whole, and not just what I want to do in that moment.
🏀: NBA Playoffs
I'm usually a pretty casual NBA fan but have been completely glued to the Playoffs this year. The bubble has really added a bizarre element to the competition and the games have been so so good.
---