#12: Photographer Owen Stegemann
Vintage Armani, Ricoh Cameras, Cyberpunk Noirs, and more
Cool people like cool things, which is why we asked cool person Owen Stegemann to come on perfectly imperfect & spread that hot rec wealth.
Owen is a friend of the newsletter & an excellent street photographer. I've been shooting on film for nearly 8 years and haven't looked back, but Owen has nearly convinced me to come back to the digital world— his work on the Ricoh (rec'd below) is great. It doesn't have that uber sharp & lifeless look that usually comes with the territory of digital photography. Take a look at his work yourself & drop him a follow.
Without further ado—
---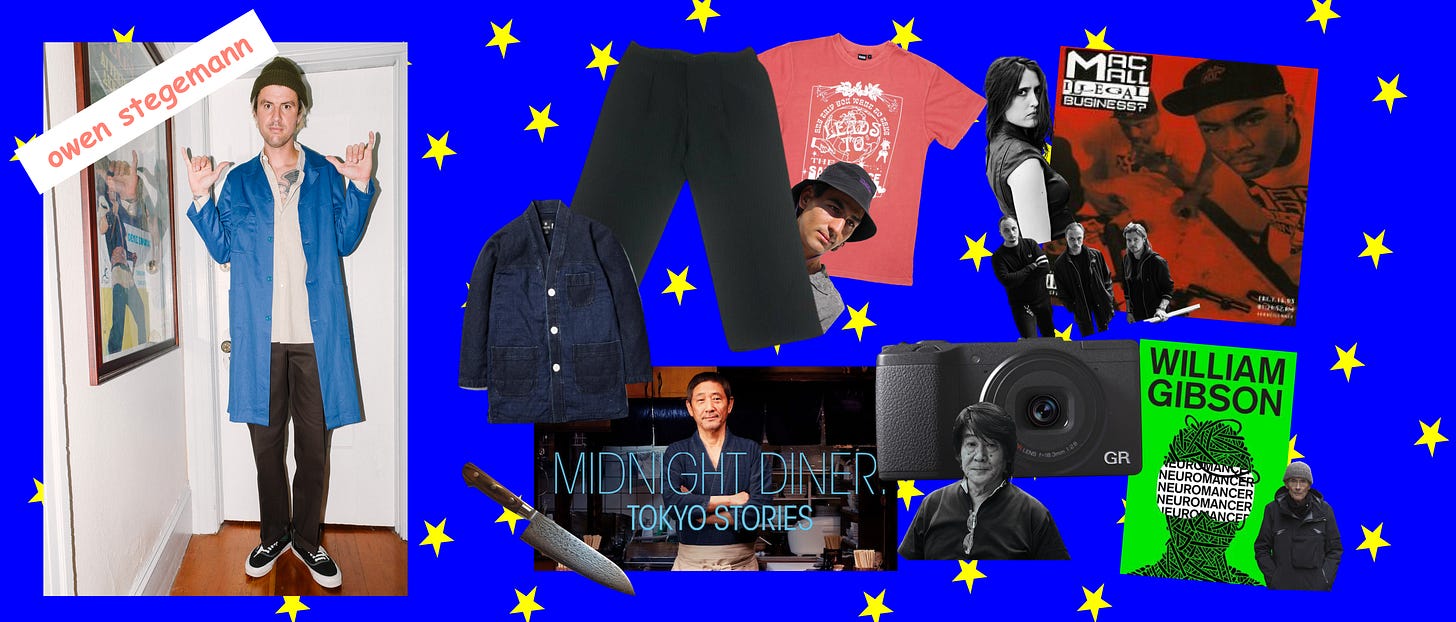 Owen Stegemann (instagram, photography)
What's up citizens of the global computer network! Owen here transmitting from the Oakland access node. I'm a photographer who also toils away in the furniture industry, but I'm with you today to beam you some of the things I've been feeling.
🏄: Thoughts (and jawns) from the green room
Surfing can be one of life's greatest joys, once you catch that first wave you're gonna want another, and another, and another. I've done it my whole life, it's the crack of boardsports, but the style CAN be pretty trash. The main aesthetic choices usually boil down to 70's cosplay, tech bro who bought a vanagon and a closet full of Taylor Stitch, or all lives matter O'neill & Oakleys guy. Luckily there are people out there carving new lines. One is Kyle Albers of Deepest Reaches who makes some of the weirdest & coolest boards out there, has great personal style (shoutout to a fellow long boy), and makes some rad t-shirts that won't make you look an OC aqua jock or wannabe vsco filtered campfire beans influencer. Another ripper and garment purveyor is my friend Savannah and her brand Ideal Surf. The launch collection is small but with very chill screened tees and heater of a bucket hat it contains all you need to not look like a kook from the subway to the sand.
📺🍛: Midnight Diner
Midnight Diner on Netflix is a (mostly) procedural comedy/drama that centers around a diner in Tokyo's Shinjuku district and its motley crew of regulars. Run by one man known simply as "Master" and only open from midnight to 7 am, Masters' diner has no menu, guests simply tell him what they want and he'll make it, provided he has the ingredients on hand. Each episode focuses on a specific dish to anchor its poignant and funny stories. With travel all but shut down this year it's been one of my favorite shows to engage in some escapist armchair tourism. Cop yourself a knife from Hida Tool, throw on your favorite noragi, go practice your rangiri cut, and be like Master.
👖: Vintage Armani trousers
Are you looking to get into some BIG, DRAPEY, BILLOWING wool trousers like the ones Yohji and Rei do so well but aren't quite ready to drop the cash? Snag some old Armani's. They seem to have made millions in the 80's and 90's and can be had for a song. Whether you wear them cropped or stacked, you'll be flowing with the best of them in no time. Giorgio also made a WHOLE lot of adderall dealer in the acura legend type junk so it can be difficult to sift through, but the good stuff is really good.
While that Contax t3 is going to look very sick in your fit pic, do you really wanna drop 1k+ on a decades old piece of consumer electronics that can only be repaired by one shop in Japan? If you are in the market for a quality pocketable camera consider Ricoh's line of GR Digital cameras. The digital version of their cult classic film compacts preserves all of the manual controls and ingenious (and indispensable to me) SNAP FOCUS feature. You might not be able to tag your ig post #shotonfilm in good faith, but you'll get a high quality image that doesn't look overly digital, from a camera that's a total joy to use. I've printed up to 13x19" (drugstore 4x6's also look great) with mine, try that with the scan you paid the lab for. If it's good enough for Daido Moriyama it's good enough for anyone. 
📻: Tunes 
NYC's Hank Wood and the Hammerheads play a style of swaggery, dripping punk rock that's hard to come by these days. Tune in, turn up, and go stomp around your neighborhood.

Mac Mall - ln My Opinion is a track from one of the unsung heroes of the golden era of Bay Area rap. Silky smooth and oddly fresh sounding, it's perfect to cruise to.

Helena Hauff makes all analog, bleak techno music that could be the perfect soundtrack to our dystopian future. 

Belarusian Dark Wavers Molchat Doma make the kinda jams that make me wanna throw on some eyeliner and goth shuffle the night away. Будзьма!
💻📚💀: Neuromancer
William Gibson invented the term cyberspace, helped create the cyberpunk genre, and GETS FITS OFF. His 1984 debut novel Neuromancer is a sci-fi noir story that has everything you could want: geopolitical conflict, demigod like Ais, corporations that operate like nation states, cybernetic body modification (AND MORE!), all wrapped up in a dark Blade Runneresque aesthetic.  

Bonus: Japanese Americana reproduction gods Buzz Rickson's got so many requests for the (at the time) non existent black MA-1 jacket he describes the main character of later novel Pattern Recognition wearing, they went ahead and made it as part of a small collaborative collection.
---
Follow Owen on Instagram
Check out his photography here