#11: Kelsey Borovinsky
Moka Pots, Books, Choco Chip Cookies, and more
Cool people like cool things, which is why we asked cool person Kelsey Borovinsky to come on perfectly imperfect & spread that hot rec wealth.
Teen Vogue & Pitchfork's Kelsey Borovinsky is not only droppin' hot book recs over on her newsletter, Read Receipts, but she's also who I go to for a last-minute nyc restaurant rec or tasty weeknight stew recipe. Without her newsletter, I wouldn't have found my all-time favorite book, Just Kids by Patti Smith (which you should definitely check out).
Without further ado—
---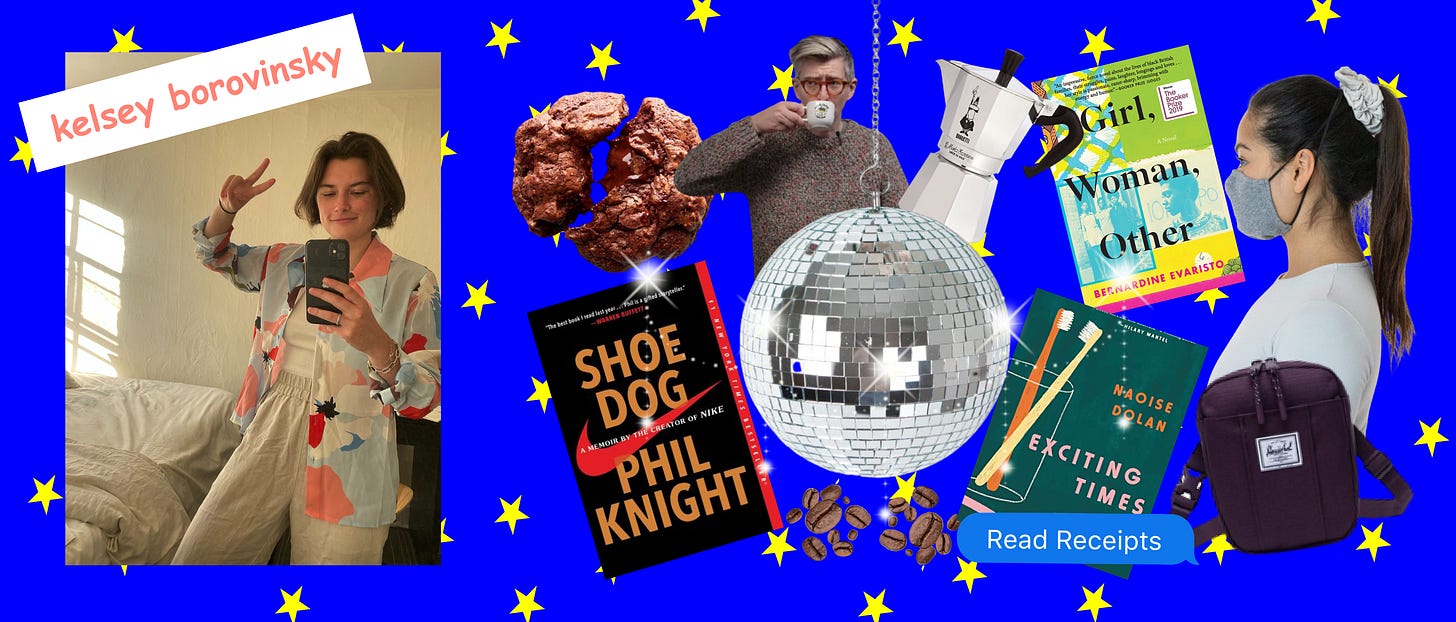 Kelsey Borovinsky (instagram, good reads)
Yooooooo! What an honor to be here. My name is Kelsey, I live in Brooklyn by way of Boston and California, work as an analyst for a massive global media company, and one day dream of owning an Italian Greyhound. Recommending books is a little passion project of mine as I started a monthly book rec newsletter a year and a half ago with two of my buds called Read Receipts, but I am going to try yelling about a few other things I've been into. Thanks for being here with me. HAGS. 
🕺: Disco Ball
Setting up my WFH space in a 7' x 10' room has been a journey and a half but after what? six months? we are cooking with gas. My latest addition was a small disco ball that sits by my window and has become a gentle alarm clock at approximately 2:00 everyday when the sun hits it just right and throws sparkly light all over my room. This has appropriately become Disco Hour and gives my brain a much needed dose of serotonin to get through the rest of the day. 
☕️: Moka Pot & James Hoffman
I made the mistake of getting addicted to caffeine as a sophomore in high school, and my jobs as a barista over the years has only exacerbated this dependency. Now if I skip a morning cup, I experience Phineas Gage levels of a headache. With this whole COVID-19 thing, I had to get good at making my own coffee at home, and while I love me some undiluted cold brew concentrate, I do not need to tell any New Englander it is about to get hella chilly out. 

For hot coffee needs, I had purchased a Moka Pot a few years ago because I thought it looked cool and loved that you did not need to always be buying filters or pods to keep using it. My cups kept coming out tasting muddy though, so the thing has been taking a sabbatical in the back of my cupboard for years. The other week, however, I fell down a James Hoffman YouTube hole and was inspired enough by his very informative Moka Pot video to bring my girl back out into the light. I used some shamefully old pre ground beans and this cool looking thing still managed to turn out one very strong, delicious cup of coffee that I would pay real dollars for.  
I used to work at Flour Bakery in Boston and this was my favorite cookie. By using this recipe from Joanne Chang herself, you can make these super chocolatey cooks at home, and as a mediocre baker, when I tell you the recipe isn't difficult you can believe me. The recipe calls for rye flour and I have never seen that in my life so just use that good ol' AP. Bake some for a friend and show up at their place like a little cookie santa and then eat the rest yourself.  
📖: Bernardine Evaristo - Girl, Woman, Other
Participating in this newsletter without recommending a book seemed blasphemous. Girl, Woman, Other is hands down my favorite book of 2020. I read this in about a week, despite its hefty 500 page length, but I am not discovering gold here, this won the Booker Prize last year and for such good reason. 

There are so many characters (12) and their stories all drift back and forth in time with each other as they illustrate the Black British experience. Each character is distinct in their background, age, identity, and occupation. The book is written in a prose-y, poetic format but still remains incredibly casual. There are no periods! The book ends in a sort of grand finale splendor we often see in film that interconnect all the characters, but this is done in such a way that is emotional and poignant, instead of cringey.
📖: Phil Knight - Shoe Dog & Naoise Dolan - Exciting Times
I just finished Shoe Dog by Phil Knight which was also great, and I am starting Exciting Times by Naoise Dolan now just in case you wanted to discuss over IG DMs or something.
I bought this on a whim last year at Urban Outfitters because I am a teen and did not expect to use it as much as I have this past summer. The crossbody functionality feels secure when I am Citi Biking it up and the outside pockets are great for quick access and there is a zippered compartment to keep all your treats safe too. It is big enough for all the essentials: Kindle, sunglasses, keys, phone, wallet, and hand sani. There are literally 33 different color options if purple is not really your thing.  
I know that Los Angeles Apparel is not the best brand on the planet, but this product is so good and has been such a staple in my life, I'd be remiss to not mention it as my final rec. My lovely, sweet boyfriend bought this facemask three-pack in black back in March, gave me one, and the rest is history. It was love at first wear with the two elastic straps to be worn around the head instead of the ears making it feel like an octopus giving your face a hug, and the heavier cotton has held up wash after wash. I have never had to adjust this mask whilst wearing, making me feel extra safe when I leave the apartment. 
---
Subscribe to Read Receipts
Follow Kelsey & Read Receipts on Instagram